Payasam is my all time favourite and chocolates! well, chocolates are imperative at my
house
, especially to my hubby. He has got a very big sweet tooth. However much you give him, his taste buds are not satiated. But I, like all girls, am conscious about my weight when it comes to chocolates but somehow conveniently forget when I drink glasses of
payasams
. So this is one recipe that combines both of our favourite things. Quick easy fix to your sweet cravings. If you do not have chocolates at home, this can be done with ready made store bought caramel / Dulce de leche.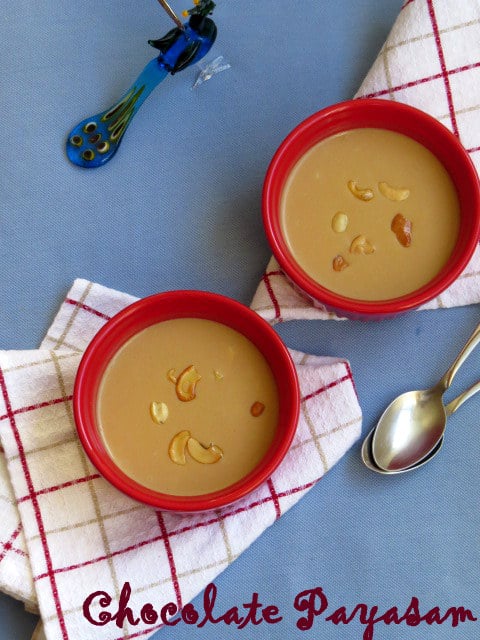 Stepwise Pictorial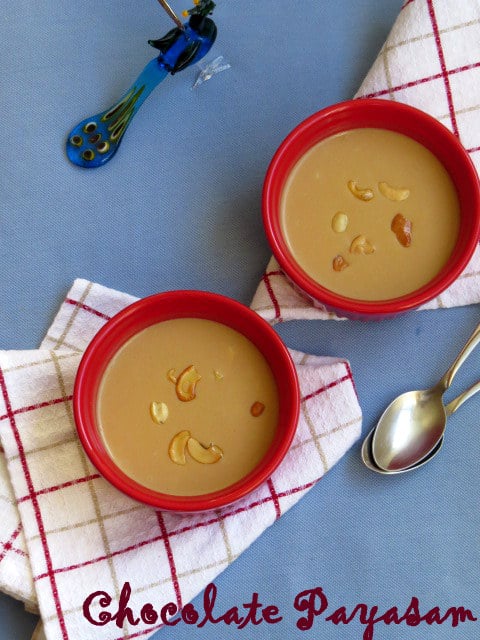 CHOCOLATE PAYASAM
Chocolates that really melt in your mouth and not in your hands. A payasam with a chocolatey twist.
Prep time: 5 mins | Cook time: 10 mins | Total time: 15 Mins | Serves: 2
Ingredients

20 no's Caramel chocolates
1 to 1 ½ Cups Milk
1 tablespoon broken cashews , roasted in ghee

Instructions

Boil the milk and keep it aside.
Melt the chocolates using a double boiler method. Boil water in a pan and then place a clean glass bowl on top of it. Make sure the bottom of the bowl does not touch the water and it sits perfectly in the pan. Once the chocolate melts take it off the stove. (1)
Slowly add the milk and stir it. Sometimes adding milk to melted chocolate gets curdled. So add little by little and check. (2)
Finally add the cashews and refrigerate it for an hour or so. (3)
Notes
Melting the chocolate using the double boiler method helps in melting evenly and without burning it. You can also melt it in the microwave. Keep the power level medium.
Add milk according to the consistency you need and also on cooling it thickens. Do not make it very runny.
This tastes good only when it is chilled. I feel it tastes like bournvita or boost when having it warm. So refrigerate it at least for 15 minutes before serving.
This recipe is for letter "C" under "Regional" theme. Check out other Marathon runners' posts here.

Logo courtesy : Preeti