Bengali's are known for their sweet tooth. A typical Bengali meal ends with curd and something sweet. Rosh Bora, is a traditional Bengali sweet. One of the yummiest recipes of the Tiger state, apart from the famous "Rasgulas and Sandesh". To the Southern people, it is tweaked Vadai sans chilli and soaked in sugar syrup. While preparing it, I was a bit skeptical on how it would taste. For us southerners it is either Sambhar Vadai or Thayir Vadai but Vadai in a sugar syrup !!? But I must say I was in awe when I had it. I was completely wrong in having second thoughts about the taste of this dish. The sugar-syrup coated crispy fritters melted in my mouth. It was so yum. Me and my H, almost finished the entire dish as our dinner. Rosh Bora is particularly made on Sankaranthi. This is one of the sweets that is not so popular outside the Bengal region but it is one of the traditional recipes. Quite simple to make and very adaptable. The sugar syrup can be adjusted more or less according to one's sweet tooth. Quite a hearty dish for everyone.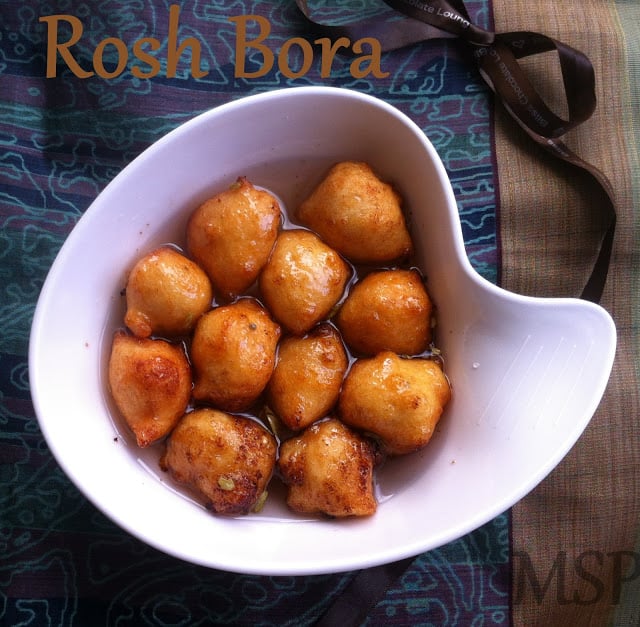 This dish made me appreciate two ingredients that I never liked before. One is the fennel seeds. I just can't stand that smell. Second, it is mixing salt and sugar together in a dish. But these were the two things, that I really liked in this dish. Slightly salted and fennel-scented fritters and the sweet syrup complemented each other. Do not forget to add little salt and fennel seeds. Crush the fennel seeds in a mortar pestle or put it in a paper and crush it with a rolling pin. Coarsely crushed fennel seeds fill the batter with its aroma. As soon as you put it in your mouth, the sugar syrup oozes and fills your mouth and then you bite this savoury bora. Wow! I just don't have words to describe how wonderful it is.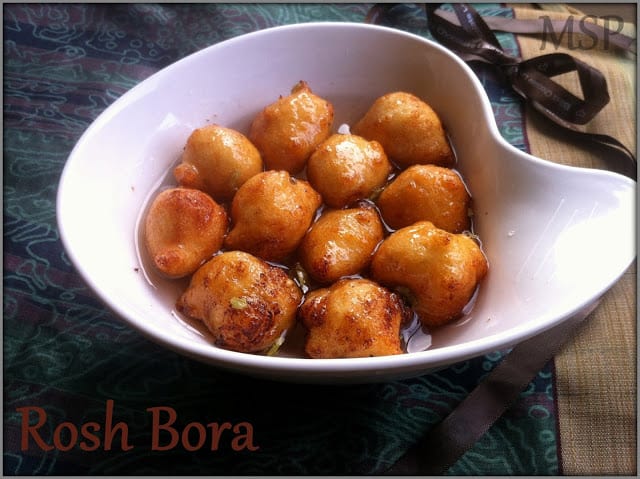 Trying out different recipes make me wonder that the regional cuisine is separated just by a thin line. The South Indian parupu urundai kuzhambu is more similar to the "Dhokar Dalna" of the East, this particular recipe without the sugar syrup is just like our "Medu Vada" . Our Morkuzhambu can be comapre to the North Indian Khadis. There are so many similar recipes. The main ingredients may differ, the preparation may differ but still you can relate to one another. Just a thought!

Pictorial: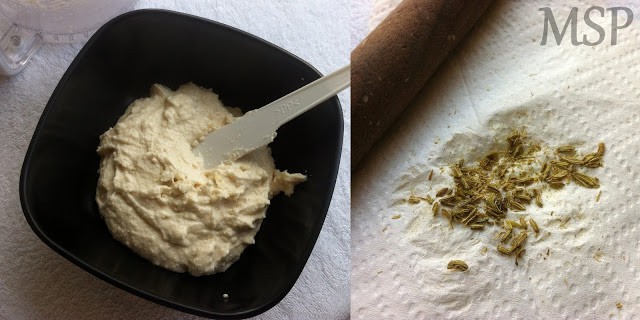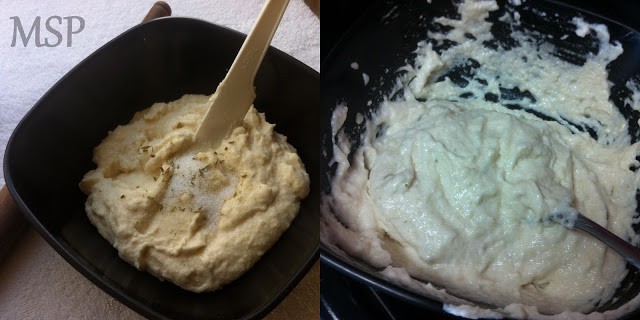 Rosh Bora
Keyword:
Gluten free Indian desserts, Simple Indian desserts
Ingredients
½

cup

urad dal

½

teaspoon

crushed fennel seeds

1

teaspoon

sugar

Salt

to taste
Sugar syrup
1

cup

sugar

divided

1

cup

Water

2-3

cardamom pods
Instructions
Soak urad dal in water for 4-5 hours. Then drain the water completely. Grind it in a mixer/processor as a smooth batter with minimum amount or no water. Sprinkle very little, only if necessary.

Pour the batter in a bowl, add fennel seeds, salt and sugar. Beat it with a fork until its airy and nicely fluffed up. This really helps in getting soft and light inside and crispy outside Boras.

Meanwhile prepare a single-thread consistency sugar syrup. Boil sugar and water. Once the sugar dissolves and it comes to a boil, simmer it for around 15-20 minutes. Crush the cardamom pods and along with the skin add it as soon as it comes to boil.

Take a spoonful of batter and drop it in the oil and deep fry them. Strain the excess oil in a tissue paper and soak them in the syrup for about 5 minutes.
Recipe Notes
Grind the batter with very minimum water. If there is excess water in the batter, it might absorb more oil while deep frying.
After you grind the batter, beat it with a fork, so that it becomes very fluffy. This makes the fritters/Boras very crispy.
I also noticed that it tasted more good when it is warm. So try serving this as soon as it absorbs enough sugar syrup.