Far and near everyone is nuts about almonds! Throughout history, almonds have been regarded as a religious, ethnic and social significance. According to the Bible, both almonds and dates were among one of the earliest cultivated foods. They have been regarded as fertility symbols throughout antiquity. The Romans showered newly weds with almonds as a fertility charm. Present Americans give guests at weddings a bag of sugared almonds, representing children, happiness, romance, good health and fortune. In Sweden, cinnamon-flavoured rice pudding with an almond hidden inside, is a Christmas custom and those who find it have good fortune for the rest of the year.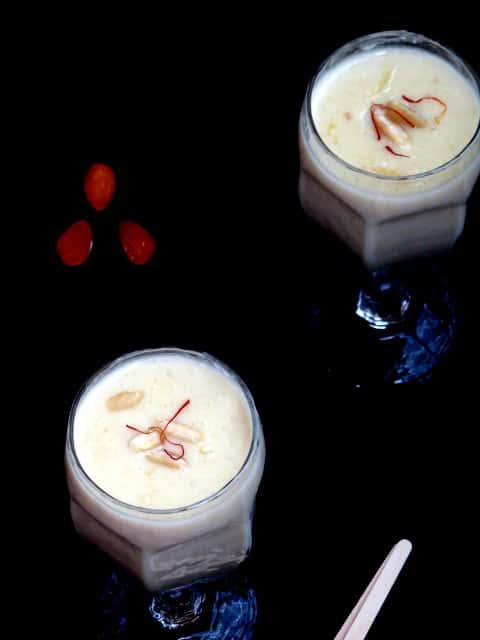 Apart from these social regards, this oval shaped nut holds a prominent place in the culinary world. From ancient Mughals to Italians to Indians, Almonds have a special place in every cuisine. By themselves they are a delicious nutritious snack, and they are a prime ingredient in the pantry. Almonds enhance virtually every food they grace with their distinctive taste and satisfying crunch. Its versatility allows it to be incorporated in almost everything. Biscotti, cookies, cakes and also in many savoury dishes. Though commonly referred as nuts, almonds are actually the seeds of a fruit. It is one of the nuts that is actually healthy and low in fat. It is so healthy that a nut a day could keep your doctor away. This delicately flavoured and versatile nut is available throughout the year.
Today's recipe for the letter B is Badam Kheer. Though I have had some badam milk quite a few times, I had this kheer for the first time just after marriage. This is one of MIL's speciality and beloved's favourite. Since then fell in love with this lusciously sweet, creamy and nutty pudding. Though a little time consuming, it is easy to prepare with just a few ingredients. So nowadays this shows its presence on most of the important occasions.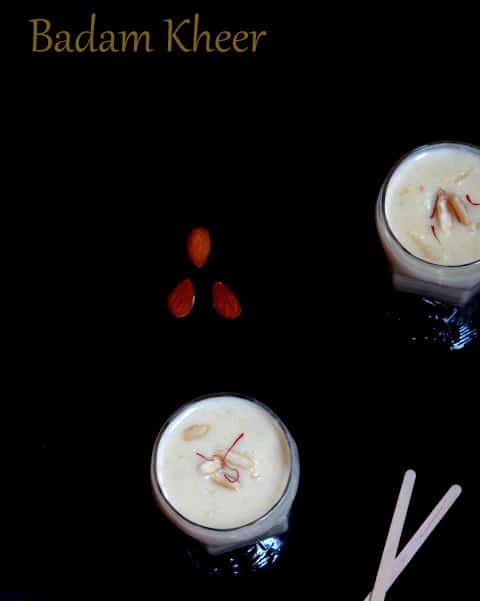 Stepwise Pictorial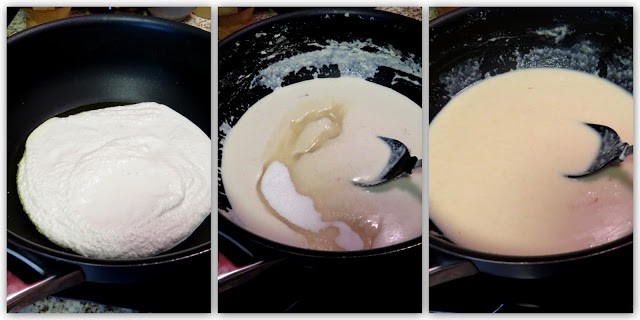 Badam Kheer | Almond Kheer
Sweet, Nutty and creamy almond pudding.
Prep time: 15 mins | Cook time: 30 mins | Total time: 45 Mins | Inactive Time: 1 hr | Serves: ~6 persons
Ingredients

1 Cup Almonds, blanched and skin removed
4-5 Cups Milk, boiled
½ Cup Sugar (5)
10-12 no's Cashews, broken
2-3 Strands Saffron (optional)

Instructions

Soak the almonds in hot water for about an hour. Then peel the skin and grind it to a thick, smooth paste. Sprinkle water when you grind when it becomes difficult. (1)
Heat a tablespoon of ghee in a heavy bottomed pan over medium high heat. Add the ground paste and keep stirring frequently until the almonds are cooked and there is no raw smell of it. It will take about 15-20 minutes. (2)
Meanwhile boil milk separately and keep it aside. If you are using saffron, take ¼ cup of warm milk and soak it for about 10 minutes.
Once the almonds are cooked, add 3 Cups of milk and the saffron soaked milk to it. Add it little by little and keep stirring while adding to avoid forming lumps of almond paste. Keep stirring it for a couple of minutes.
If you find the consistency to be slightly thick, add the remaining 1 Cup milk or how much more you need. (3)
Finally roast the cashews in a teaspoon of ghee and garnish it. Refrigerate if for an hour and then serve.
Serving Suggestion
Do not serve this kheer as soon as you make. It tastes good when it is refrigerated for an hour or two. It takes some time for the almond flavour to infuse in the milk
Notes
Some people use milk to grind this into a fine paste. But I find using milk makes it difficult and takes a long time to grind. So use water and just sprinkle it while grinding. If there is too much water in the ground paste it will splutter while cooking and also takes a long time to cook.
The cooking time of almonds varies a lot depending on the type of stove as well as on the amount of heat you use to cook. Gas stove cook time might be less than an electric stove's cook time. This 15-20 mins is a ball park figure.
Another thing to note is the consistency of the kheer. The kheer should have a nice creamy almond base and at the same time you should be able to sip it from the glass. This is our preferred consistency. About 4 Cups milk will give you this consistency for the amount of almonds used in this recipe. Based on your preference adjust accordingly.
If you keep this for the next day, it might slightly get thick. So add cold milk and adjust. Don't use hot or warm milk or never reheat it again.
You can also use condensed milk in this recipe. If adding, reduce the amount of sugar and add it in step 3. Generally adding condensed milk gives a body and base to a kheer. In this case, the almond paste is enough to get a thick creamy kheer.
This recipe is for letter "B" under "Regional" theme. Check out the Blogging Marathon page for the other Blogging Marathoners doing BM# 32

Logo courtesy : Preeti