Dosa and Idly are the primary breakfast in a South Indian home. Almost 3 days in a week morning breakfasts will be the same. In every household, the batter will be prepared during the week end, allowed to ferment over night and kept in the fridge, ready to make steamed idlis Monday morning. Both the dosa and idli batter are the same. (only slight variations but the same can be used) As soon as the batter ferments, idlis can be made and resting it for 2 or 3 days more and allowing it to become slightly sour, is perfect to make crispy dosas.
That said, my house was no exception. Up to a certain age I never minded eating these frequently and even if I say no, mom knew how to cajole me into having it. But after some years she realized that was never going to work here after and every time we used to have a big fight between us, dad in between sure not to take either of the sides. That's when mom started making varieties in dosa (I know it is still a dosa but had a variety with lots of cashews) and this is one of them. This wheat flour dosa can be made quickly. The batter does not require any fermentation, it is an instant one. On top of it its like a blank slate. You can add any veggies or additional seasoning to make it even more healthier and tastier.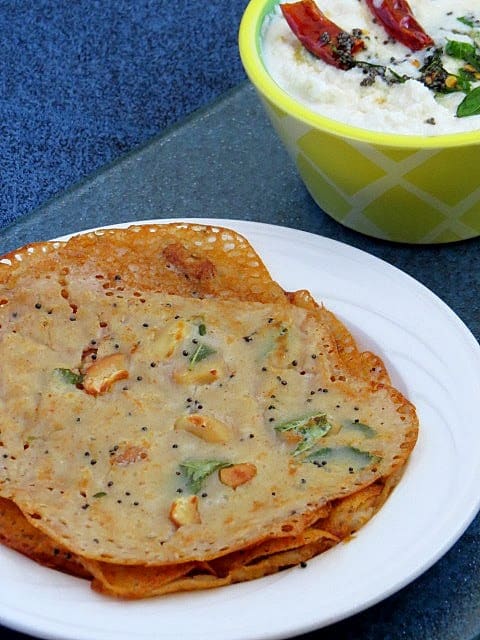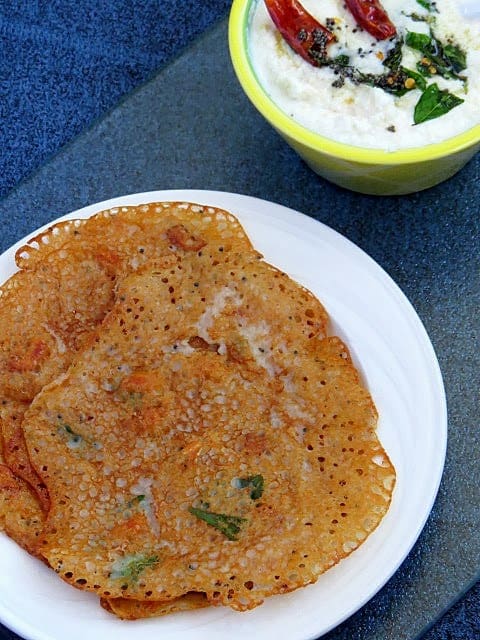 Wheat Four Dosa | Godhumai Rava Dosa
Indian Pancakes with wheat flour.
Prep time: 10 mins | Cook time: 12-15 minutes | Total time: 10 Mins | Yields: 8-9
Ingredients

5 tablespoon Wheat Flour
2 tablespoon Rice Flour
1 Cup Water
2 Tbsp Curd
1 teaspoon Oil
½ teaspoon Mustard seeds
½ teaspoon Channa Dal
1 tablespoon Cashew (optional)
3-4 Curry leaves, roughly chopped
¼ teaspoon Asafoetida
Salt to taste

Instructions

Mix wheat flour and rice flour in a bowl. Add salt, water and curd / yoghurt. Whisk together well without any lumps.
Heat oil in a pan and temper it with mustard seeds, channa dal, cashews, curry leaves and asafoetida.
Pour this on the flour mixture and mix well.
Heat a tawa / griddle. Once it becomes hot (sprinkle water and check, if it sizzles and evaporates immediately its fine) ladle the batter and pour it on the hot tawa.
With the help of laddle pour the batter forming a circle from outside to inside. As you pour it bubbles and a proper round shape is not necessary. Drizzle some oil on the edges.
Once it becomes golden brown and crisps around the edges, flip it. Cook on the other side and take it out. The other side need not brown.
Notes
You can also add finely chopped onions and grated ginger for extra flavour.
This dosa is slightly tricky to make. It is not like the regular dosa and flipping it without tear requires patience. When you pour the batter keep the flame high. As soon as you pour it reduce the flame and allow it to cook on a med - low flame. This batter requires long time to cook.
The initial 2-3 dosas might not come properly. So do not worry if that happens. As the tawa adjusts to a proper heat and use, the rest of the dosas might come better.
This recipe is for letter "W" under "Regional" theme. Check out other BM #32 Marathon runners' posts here in this page.