This is one of the classics from South India. Healthy and a very filling steamed rice dumplings. Thanjavur now more commonly known as Tanjore (with accent) is world known for its arts and paintings. Tracing its roots to the historical golden era of the early 18th century, Tanjore artwork is one of the many indigenous art forms for which India is noted. Fine artistic work, use of rich precious stones are the compelling characteristics of Tanjore painting. The paintings are mostly of God and Goddess. Apart from painting, the regional people had a flair for arts like sculptures and scriptures. The magnificent Brahadeeshwar temple in the heart of the city is a distinguishing example for meticulous sculptures. These may be the well known facts. Apart form this, the land also roots to rare unique and scrumptious dishes of Tamil Nadu. This is my paternal native and I was also brought up in the nearby city. Owing to the place where I grew up, this weeks marathon will be the traditional exotic dishes from this region.
Pidi Kozhukattai is a healthy and a filling breakfast item. As the name suggests (pidi means to hold tight) is shaped with hand into small balls with no particular shape. But nowadays, for the visual appeal of the foods, this is made as perfect round or oval shaped. These steamed rice dumplings are seasoned simple and tastes perfect with coconut chutney or Tomato Gotsu or Sambhar.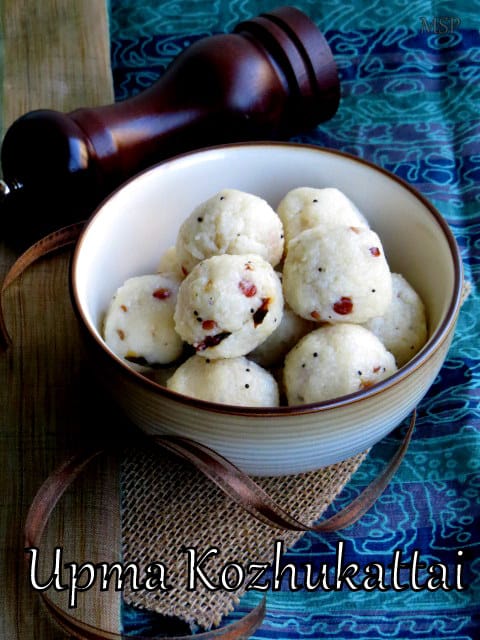 PIDI KOZHUKATTAI | UPMA KOZHUKATTAI
Steamed rice dumplings from Southern India.

Prep time: 5 mins | Cook time: Under 30 Mins | Total time: Under 30 min | Serves: 12-15 no's (small)
Ingredients

1 Cup Raw Rice
2.5 cups Water
1 tsp Mustard seeds
Few sprigs Curry Leaves
¼ tsp Asafoetida
2-3 no's Red Chillies
1 Tbsp Grated Coconut

Instructions

Soak the rice in water for around half an hour. Drain the water and spread it on a muslin cloth and allow it to air dry until it is only slightly moist. Grind it coarsely in a mixer. It should not be powered and at the same time it should not be just broken rice grains. Keep it aside.
Heat oil in a pan over medium heat. Once it is very hot, add the mustard seeds and allow it to crackle. Then add the curry leaves, asafoetida and red chillies. Stir them and then add water. Once it starts boiling, add the ground rice and grated coconut while stirring it constantly.
Keep stirring to avoid lumps until all the water get absorbed. Turn off the flame.
When it is warm enough to touch, divide the whole mixture into small balls.
Steam these balls for 10 minutes. Serve them with gothsu or coconut chutney!
Notes
You can also use the ready made idli rawa availbale in stores. One cup of raw rice yields apporximately 1 ¼ cups of raw rice.
Do not allow the mixture to cool completely or dry out before you could make them into balls. While making the balls, cover the remaining mixture with a damp cloth and start making it while it is still warm.
This for the first day of BM under Traditional theme. Check out the other Blog Marathoners here.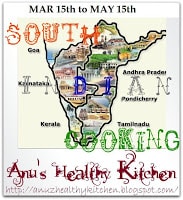 This is also sent to South Indian Cooking Event hosted bySimply Tadka and Announced by Anu's Healthy Kitchen.