My memories associated with this Northwest state are mainly through Hindi movies. A train running along the lush green pasture, two men wearing a traditional Kurta and Tamba, dancing to the folk tune of the song "Ghar aaja pardesi, tera des bulaye re". That's the picture that runs in my mind when I hear or talk about this region. Yes, the long-running paddy field and Bhangra dance are the first things that comes to mind when I say Punjab apart from their delectable array of spread.
For me, North Indian menu invariably means Punjabi food. Whenever we feel like having outside food, I always prefer a Punjabi restaurant. Even though for me South Indian meal is home food and a comfort, when it comes to pleasing my palate, it is always Channa Masala, Rajma, Parathas, Kulcha and all other creamy, rich curries this region has to offer. The accompaniments for these rotis, raw onions, green chillies, curd and pickle create a magic. I seriously wonder who did all these pairings. Simply awesome and eating these rotis is an art - tearing it with one hand and folding it to scoop the curry without any mess. Today's recipe is a simple paneer paratha that should be enjoyed with a glass of Mango lassi. (post to be followed soon).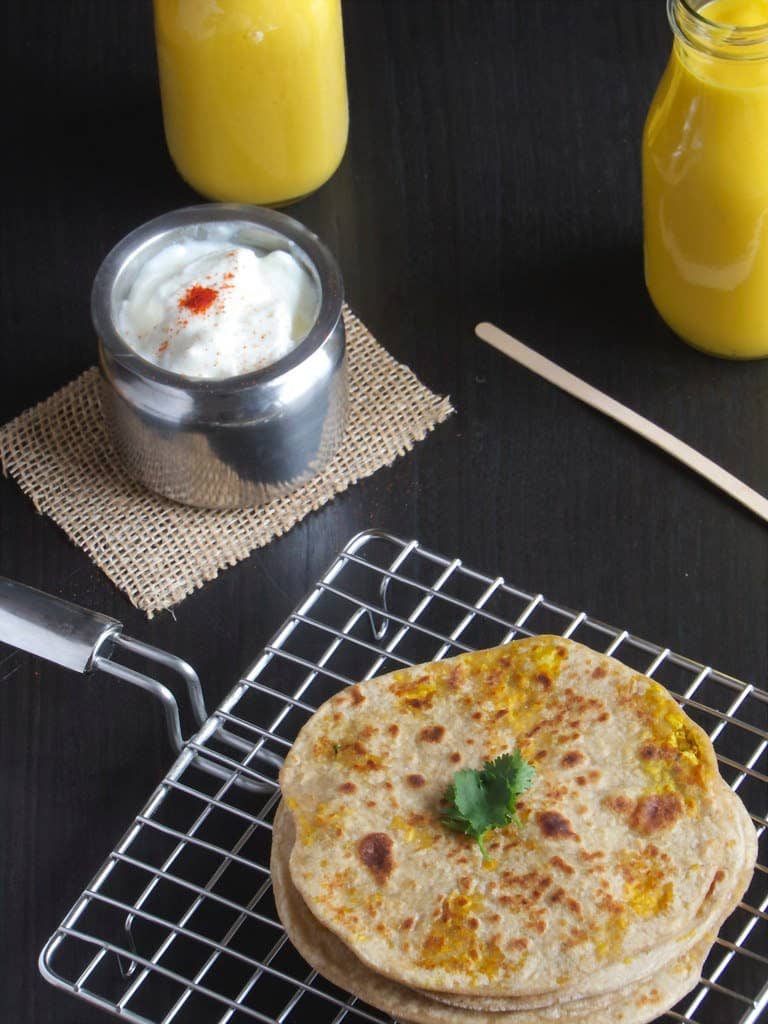 Stepwise pictorial for easy understanding.
1.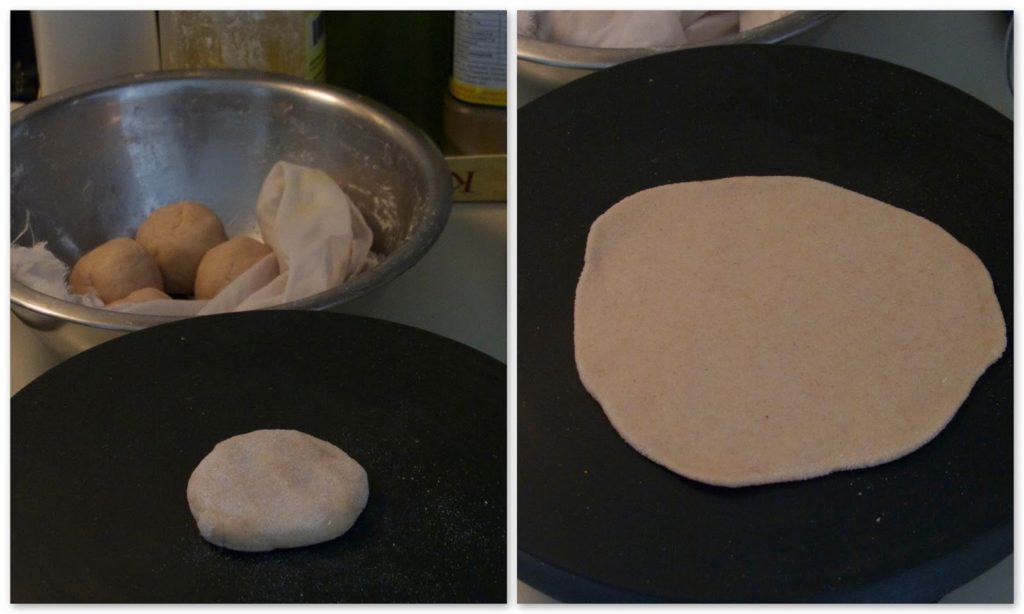 2.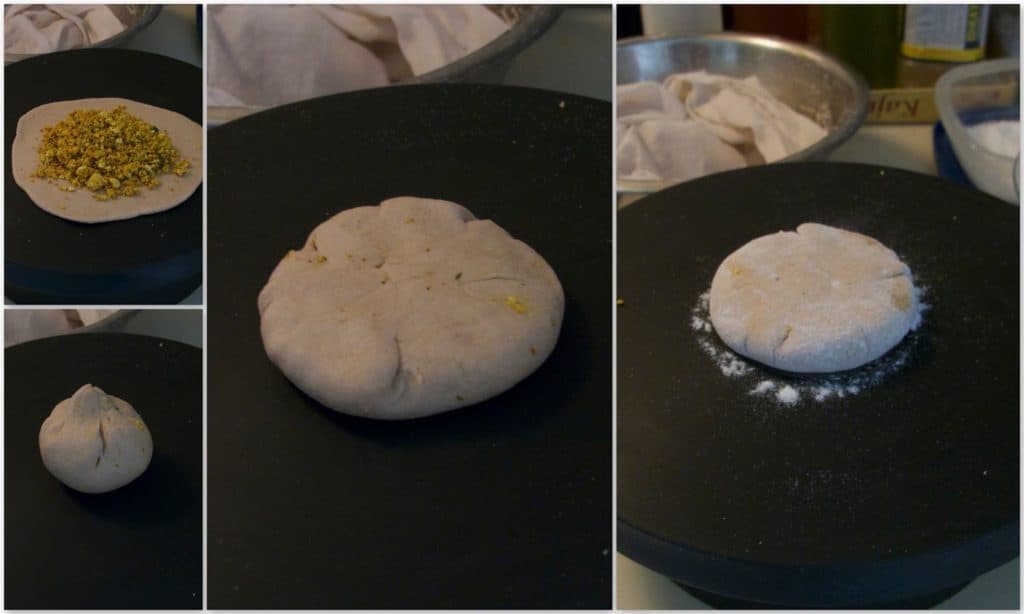 3.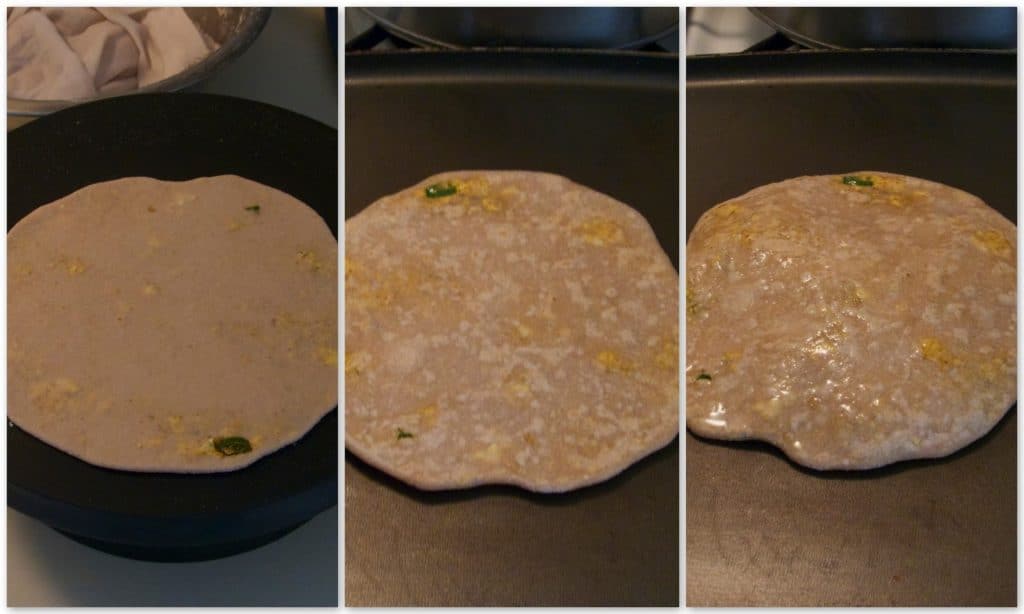 4.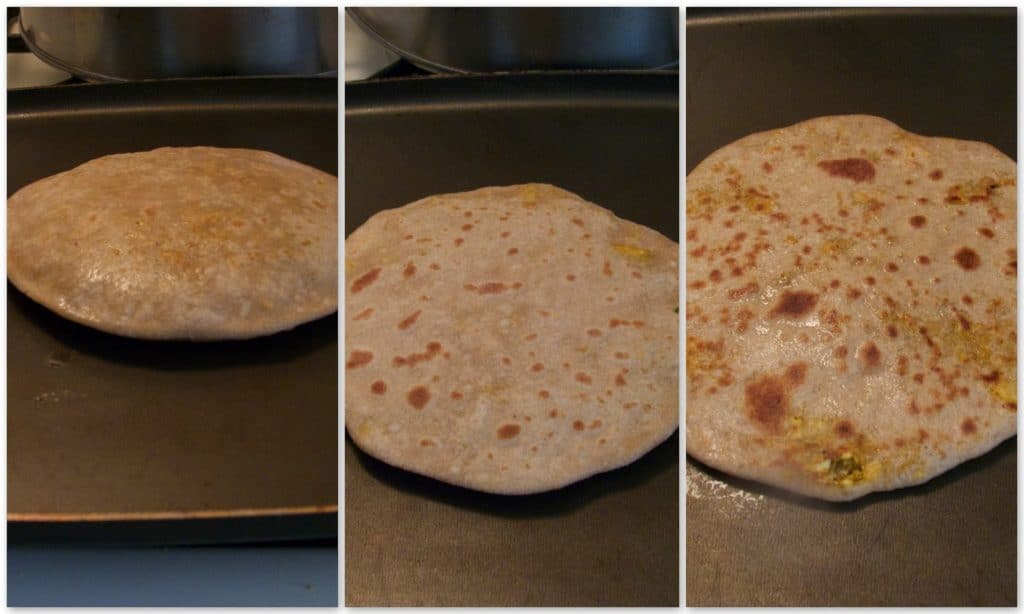 Paneer Paratha - Punjabi Treat
Flatbreads stuffed with a spicy paneer filling.
Ingredients
Dough (outer cover)
2

cups

atta | wheat flour

Water to knead the dough

Salt To taste
For the Paratha Filling
2

cups

Grated Paneer | Cottage cheese

3

green chillies, finely chopped

½

teaspoon

turmeric powder

½

teaspoon

cumin powder

1

teaspoon

coriander powder

1

teaspoon

garam Masala

1

teaspoon

red chilli powder

1

teaspoon

kasurimethi (dry fenugreek leaves)

optional

Salt To taste
Instructions
Dough (outer cover)
In a mixing bowl, add the flour and salt. Knead the flour into a soft pliable dough by sprinkling water little by little. Knead for at least 5 minutes until it turns to a light colour and is very soft. Cover it with a wet cloth or an airtight lid and rest it for about one-hour minimum.
For the paratha filling
Just before making the parathas, combine the grated cheese and other ingredients mentioned in under the paratha filling. Check for seasoning and adjust. You can increase/reduce the amount of spice as per your reference.
Making parathas
Take the kneaded dough, divide into 7 equal portions.

Roll out one into a small disc of about 2 or 3". (Refer collage 1) Place about 2 heaped tablespoons filling in the centre. Fold from the sides and close it in the centre. ( Refer collage 2)

With the folded side facing up, roll out the dough again, as gentle as possible and slightly thicker than the regular rotis. ( Refer collage 3)

Heat the tawa | gridle over medium heat. Once it is hot, place the paratha. Flip, once slight brown spots appear on the bottom. Apply ghee to the flipped side. Do the same on the other side. ( Refer collage 3)

Cook the parathas, flipping in between until brown spots appear on both sides. ( Refer collage 4)
Recipe Notes
Make the filling slightly spicy as it is stuffed in the dough. Sometimes it might become bland after stuffing inside the dough.
You can adjust the spice as per your required spice level.