Rava Kichadi is another popular South Indian Breakfast dish. It is a mixture of rava (semolina) and veggies cooked to a semi solid pudding consistency and lavishly smeared with ghee and cashews. Considered as one of the comfort food and is always relished with coconut chutney and is always served warm. Another quick healthy morning meal loaded with loads of colourful veggies.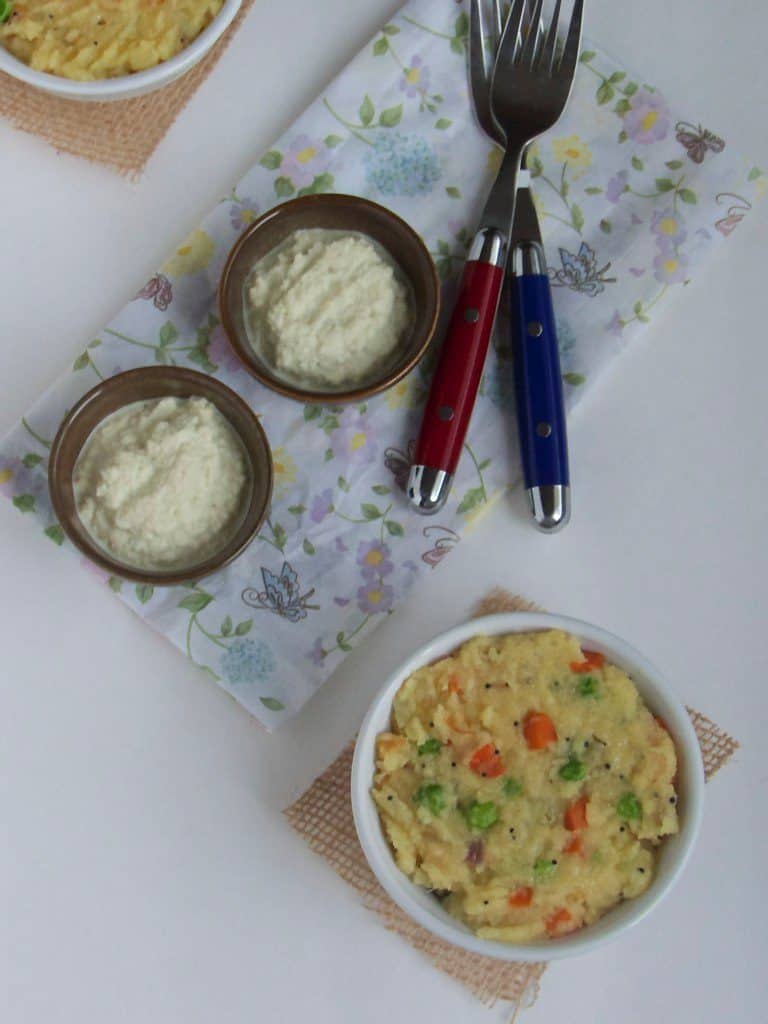 Rava Kichdi
Mixture of rava and veggies cooked to a semi solid pudding consistency, smeared with ghee and cashews.
Prep Time: 10 Mins | Cook Time: 15 Mins | Total Time: 25 Mins | Serves: 2
Ingredients

1 Cup Rava | Semolina
2 tablespoon Oil
½ teaspoon Kadugu | Mustard seeds
2 Green chillies, slit lengthwise
3-4 Curry Leaves, Torn
½ Cup finely chopped Onions
½ tablespoon finely chopped ginger
A pinch of turmeric powder
1 medium sized tomato, finely chopped
¾ Cup veggies, finely chopped (potatoes, carrots and peas)
2 - 2.5 Cups Water
Salt to taste
Few roasted cashews
Coriander leaves for garnishing

Instructions

Heat oil in a Kadai | Pan. Add the mustard seeds and once it splutters, add the green chillies, curry leaves and ginger and give a quick stir.
Then add the onions and saute until it turns translucent. Then add the turmeric powder and tomatoes. Stir and cook until the tomatoes become mushy and incorporated.
Then add the veggies and stir them for a minute. Add 2 cups of water and bring it to a boil.
Cover and cook for about 3-4 minutes until the veggies are cooked.
Add the remaining ½ Cup water; turn the heat down and then add the rawa gradually. Keep stirring it while adding the rawa to avoid forming lumps.
Cover and cook until the rawa becomes soft for about 3-4 minutes. Add a tablespoon of ghee and give it a mix. Garnish it with coriander leaves and cashews.
Notes
The amount of water depends on the quality of the rawa and its size. Generally twice the amount of water is used.
Even though the preparation is the same as making a Upma, the main difference is in the consistency. This is almost like a porridge with lots of veggies and ghee added.
Ghee can also be added to individual plates. This gives a flexibility for those who don't like ghee.
This post is for Blogging Marathon 46 under the theme "Combo dishes". Check out the Blogging Marathon page for the other Blogging Marathoners doing BM# 46 here.