Today's post may not be a regular breakfast recipe. Its not the fancy parathas or dosas or idlys, the Indian table usually sees. The dish that depicts the pure, raw nature and originality of the Indian people. It is a simple man's food - fermented rice with curd and chillies and mashed potatoes. A typical Assamese farmer's breakfast. Commonly seen in the rural household of Asssam, rice left to ferment overnight by adding water and had the next day by seasoning it with mustard oil and green chillies.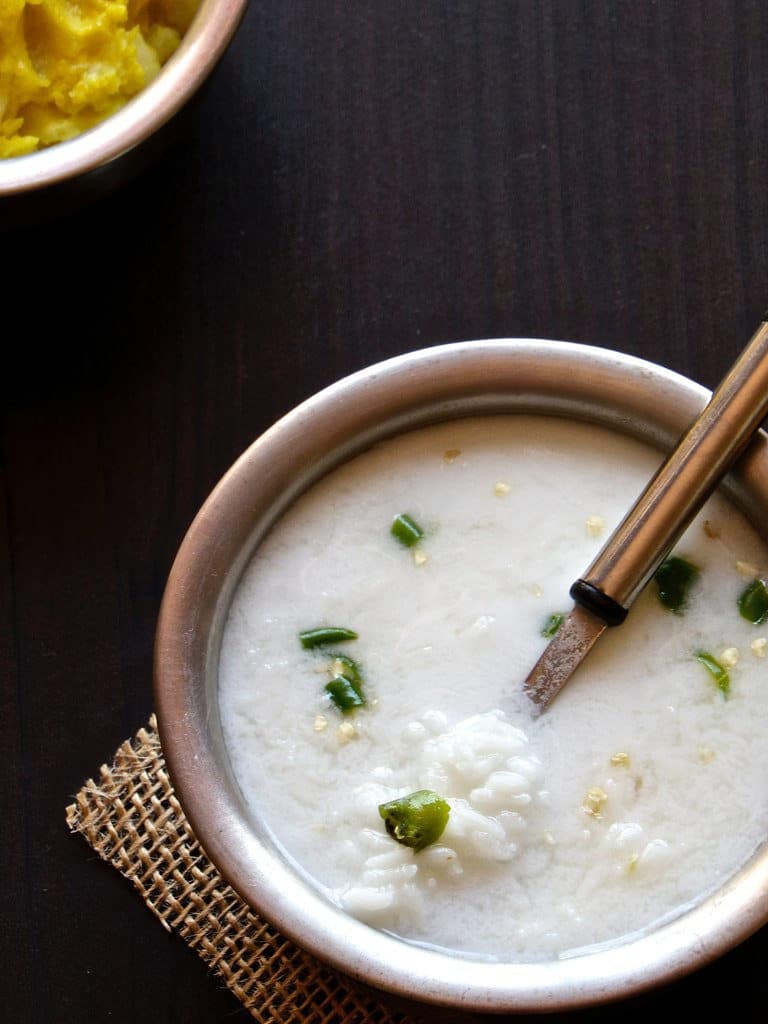 This dish with slight variation, is very common in other Indian states as well. One thing to notice is that this dish is not restricted to farmers, but also many families (mine included) used to have this. Down here in the south we call this as Pazhedhu or Pazhaya Soru (Soru means rice in the local dialect and Pazhaya is left over in this context). My dad, as a kid, literally grew up with this. Those days, it is quite common to be in a joint family and usually the eldest of the siblings would take care of the whole family. My grand dad being the eldest, his house would always be buzzing with people, his own brothers and sisters, niece and nephews etc... Making a lavish meal for all of them was highly impossible, given that the entire family was run on a single income. There are times, my dad said, that he had had to take this all three times a day. Wow!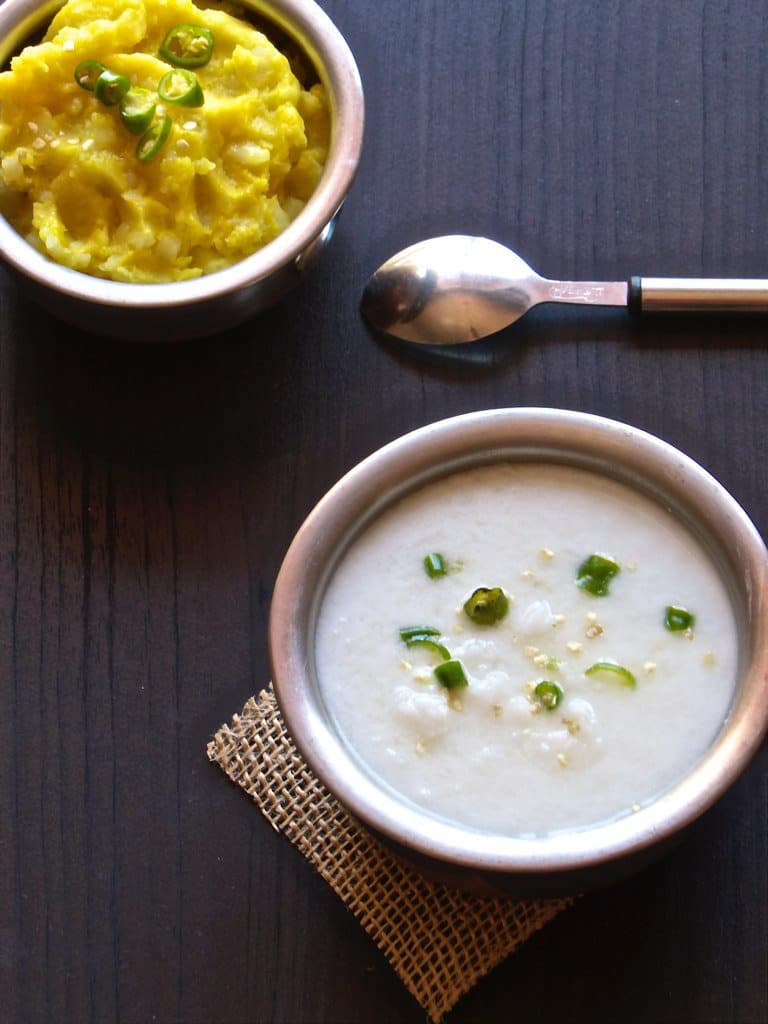 Moreover, I was stunned when he said he was never bored of having it and in fact he loves it and miss having them now. This makes me wonder, if things in the present are evolving fast and blind without acknowledging the traditional and important things from our roots. There are so many things that are forgotten not limited to food. We boast about having multigrains in our breakfast, vitamins as supplements etc., but little do we know of what our ancestors had like pazhaya soru, Kanji, Keppai Koozh, Angaya Podi viz. The previous generation seems to have been so much happy and content with these kind of simple things. They also seem to be more hale and healthy than us. Even though we are well advanced in medicine now, there seems to be no reduction in the number of invalids. What my mom gets (ailments) at 50, I am getting it at 25 ! I wonder if I will be able to move myself without some one's help at her age.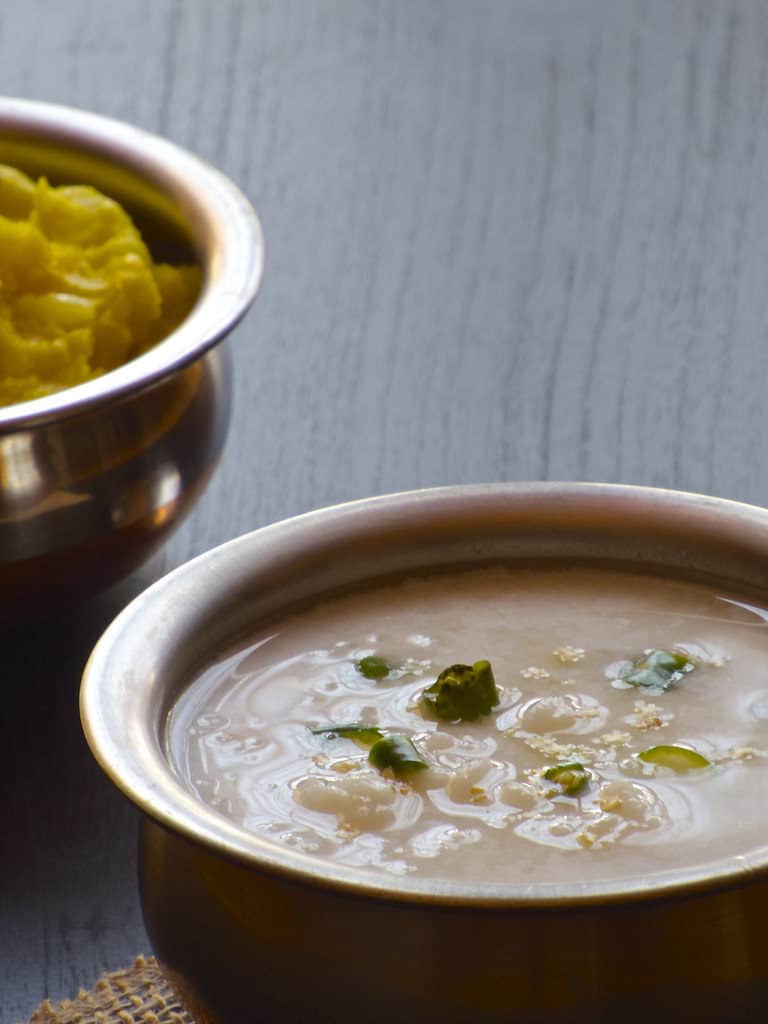 Even though this can be termed as a poor man's food, this has a real punch to it. It is plain and simple, no doubt. You may even wonder what possibly can be great and say it's just another curd rice. Well, I may not be able to put it eloquently, but all I can say is just have it once. Try this out the authentic way. Here in tamil Nadu we will have this with small onions and green chillies. In Assam, this is had with aloo pitika, mashed potatoes. Whichever way you prefer, it has such a refreshing taste. The sourness of the curd and the stinging bite of that green chilli, will wake up your taste buds. Needless to say about its healing and health benefits, fermented rice is a pandora of nutrition. It is the best coolant in the summer months and a natural cure for mild acidity and stomach upsets.
So friends, keep this in mind as Summer is fast approaching!!!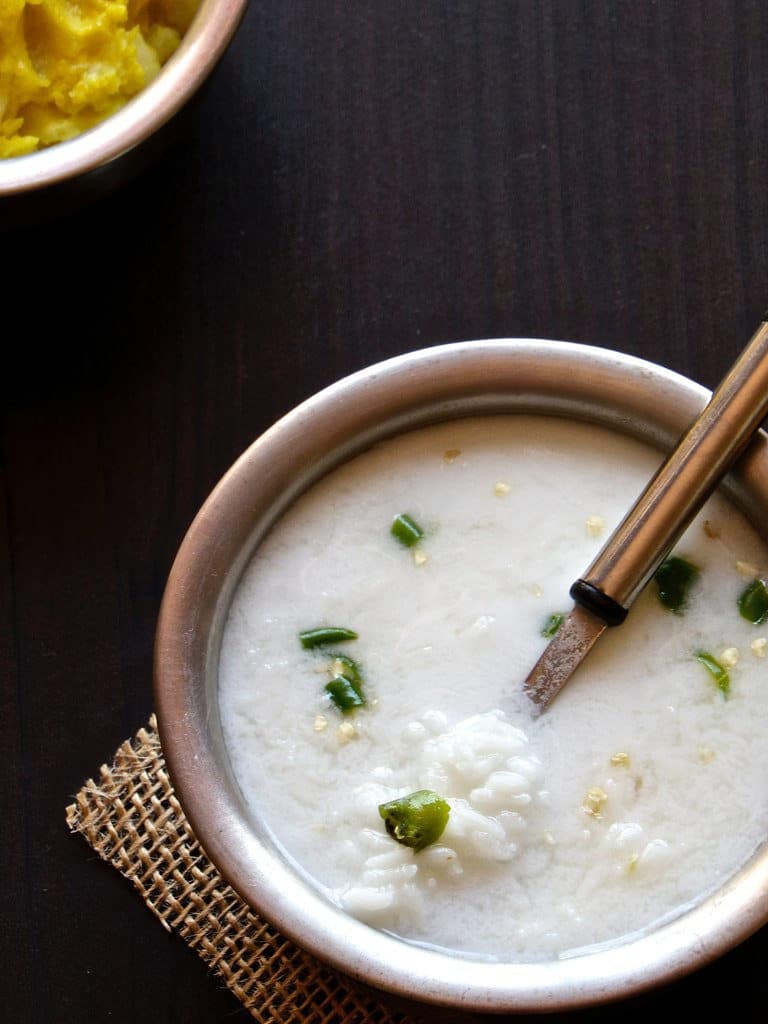 Poita Bhat with Aloo Pitika ~ Assamese Breakfast
Slightly fermented rice mixed with curd, chillies and onions. Served with mashed potatoes and dry fish in the rural Assamese household.
Prep time: 5 mins | Rest Time 10 Hours | Cook time: NIL | Total time: 10 Hours | Serves: 2
Ingredients For Poita Bhat

1 Cup Cooked Rice, soaked in water overnight
½ Cup Buttermilk (2)
Salt To taste
1 Green chilli, finely chopped
½ cup Finely chopped Onions

For Aloo Pitika

4 medium sized Boiled potatoes
2 Green chillies, finely chopped
2 tablespoon Mustard Oil
Salt to taste
1 teaspoon Turmeric powder

Instructions

For Poita Bhat, Combine the buttermilk, salt, chillies and onions and the rice along with its water.
Drizzle some mustard oil, check for seasoning and serve.
For Aloo Pitika, peel and mash the potatoes finely. Add salt, turmeric powder, mustard oil and chillies and mix well.
Notes
This dish in the north east is served with dry fish.
Buttermilk is not added in the authentic preparation. It is added to enhance the flavour as some may find it bland to have as such.
This post falls under the Assam state of North east India. Check out the Blogging Marathon page for the other Blogging Marathoners doing BM# 39