Best way to gain energy and strength to carry you through the busy mornings into the day is to have a king size breakfast. It does not mean one should have a feast but a nourishing and tummy filling breakfast. It makes us to lead a happy and a healthy life. Parathas perfectly fall into this pigeon-hole. A very tasty and a filling breakfast that lasts until noon without any in between cravings. What I like the most is that you need not prepare any side dish. Whatever veggies or proteins you plan for the day, cook them and fill it heartily. For this morning's breakfast I combined Oats for additional fibre and spring onions for their green and the mild onion flavour.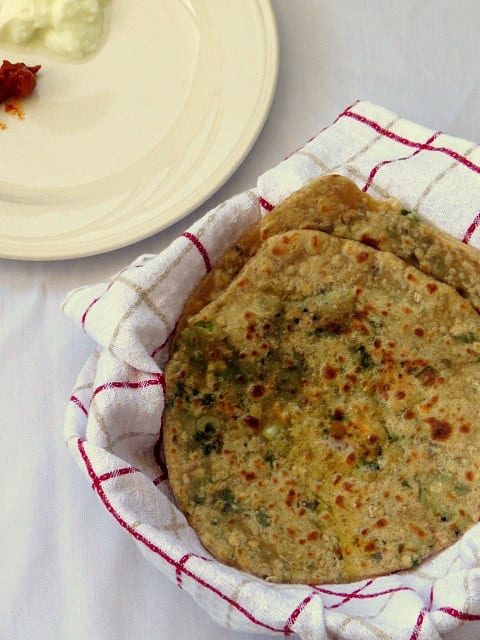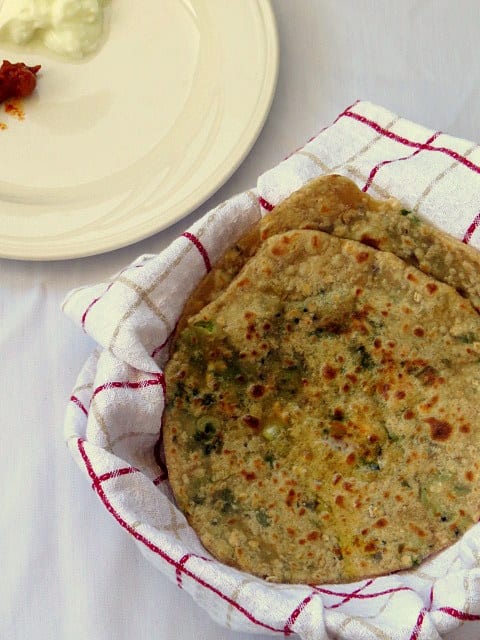 Oats and Spring Onion Paratha
Healthy and filling breakfast to get you through the entire day. Breakfast King size.
Prep time: 10 mins | Cook time: 2 mins / paratha | Total time: ~ 20 Mins | Yields: ~6
Ingredients For the Filling

⅔ Cups Greens from the Spring Onions
⅔ Cups Whites from the Spring Onions
1 teaspoon Black cumin seeds
Salt to taste
2-3 no's Green chillies, finely chopped

For the Dough

1 Cup Whole wheat flour (1)
¼ Cup Rolled oats
Water to knead

Instructions

Mix wheat flour and oats in a bowl. Sprinkle water little by little and knead it into a smooth and non sticky dough. Rest it for at least half an hour.
Heat a pan and add little oil. Once it is hot, add the cumin seeds and let them sizzle. Then add the whites of the spring onions, green chillies and give them a quick stir for a minute. (2)
Finally add salt, the green part of the onions. Let it cool.
Now divide the dough and the filling into 6 equal parts. Take one part of the dough and roll it out into a 3" disc, dusting it with flour as needed.
Keep the filling in the centre and fold from all the sides and pinch it at the end to close.
Flatten it out with your hands and dust it with minimum flour. With the folded side facing upwards, roll it out gently as much as you can without spilling the fillings outside.
Heat a griddle / Tawa. Let it become very hot. Add a rolled out paratha. Once you see bubbles rising up flip it over. Smear the paratha with ghee (optional). Flip it over again and repeat the same. (3)
Keep flipping for every 10-15 sec until you see brown spots and when the parathas are fully cooked. (4)
Notes
Most of the Indians use store bought Flour, popularly known as Atta (Pilsburry, Aashirvad are quite popular Indian brands). When you are not able to get your hands on these, buy a fine whole wheat flour. Do not use pastry whole wheat or coarse grained whole wheat flour. Rolling out chapatis / parathas become very difficult.
Any filling for the paratha must be completely cooled before you fill it. Moistness in the filling will cause difficulty to roll out the parathas. It gets stuck to the rolling pin creating a mess.
While making chapatis / parathas the temperature of the tawa is very important. Though I cannot give a n accurate mercury value, make sure that the tawa should be really hot before you put the rolled out dough. As soon as you put it, in few seconds you should see small bubbles raising. Keep adjusting the flame in between every chapatis / parathas you make. It might sound tricky, but with practice it should be easy.
Do not leave the chapatis / parathas on the tawa for long and also dont keep flipping it often. It might make them very hard. Keep flipping it over every 15-20 seconds for 3 or 4 times and it will get cooked.
This recipe is for letter "O" under "Fusion" theme. Check out other BM #32 Marathon runners' posts here in this page.

Logo courtesy : Preeti