The state of Uttar Pradesh is historically acclaimed. Rich in culture and tradition, it is known for its fine arts, literature and is a site for many world heritage. The world famous Taj Mahal, prasied as the epitome of love in numerous poems and arts is situated in this state. This culturally prosperous region is also known for its lip smacking cuisine - The Mughalai cuisine. This very word is almost transposed with Indian cuisine outside India. To most non-Indians, Naan, Kulcha, Koftas are the much popular food of India and all these comes from the great Mughals. Apart from the Mughalai food, Awadhi cuisine is also one of the popular cuisine in Uttar Pradesh. This state has churned out so many delectable recipes that are rich in flavour, taste and texture.
This recipe is inspired from the Mughals. Rotis made with butter and seasoned with freshly ground black pepper. Unlike the regular rotis, these appear to be flaky, buttery and very soft. The essence of the roti is the addition of pepper that gives a warm flavour. Pair it with any gravy or a salad and enjoy.
Recipe adapted from Tarla Dalal.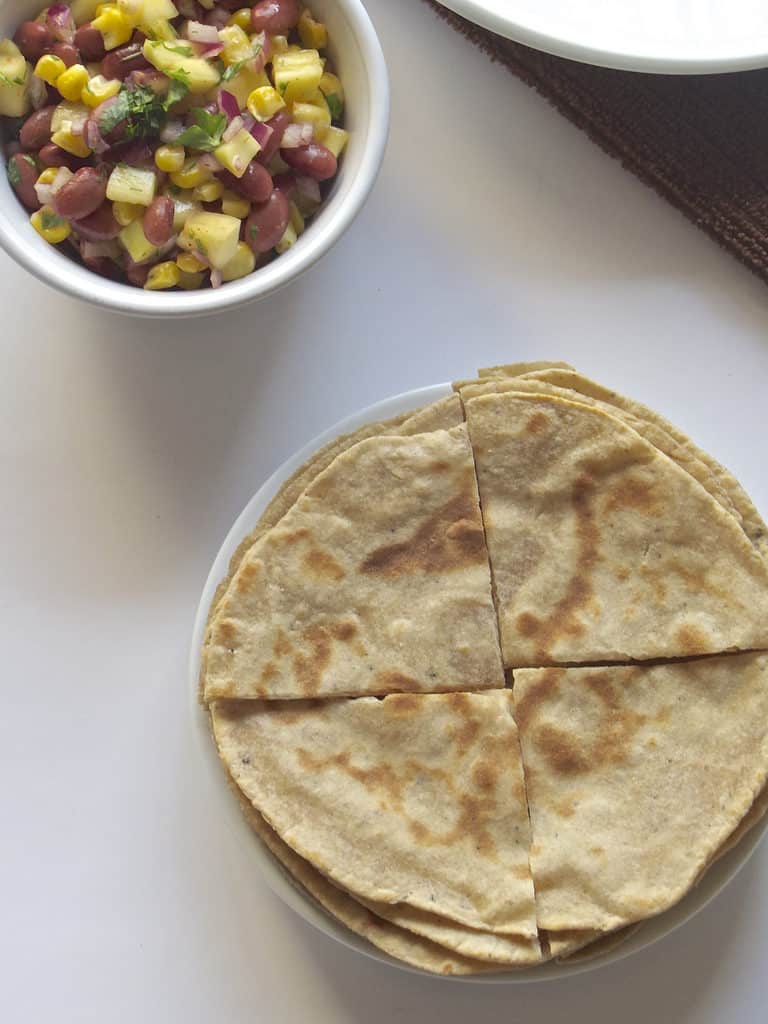 Makhani Roti | Mughalai Roti - Uttar Pradesh
Rotis made with atta and butter and, seasoned for fragrance with freshly ground black pepper.
Prep time: 10 mins | Rest Time: 20 Mins | Cook time: 15 Mins | Total time: ~45 Mins | Yields: 6-7
Ingredients

1 Cup Atta | Wheat flour
1 tablespoon Vennai | Butter (unsalted)
1 teaspoon Milagu Thool | Black Pepper Powder
Salt to taste
Water to Knead

Instructions

In a bowl, mix atta, butter salt and pepper. Using your hand crumble the butter and mix it well.
Then sprinkle some water and knead it into a soft dough, just like doing for regular rotis. Rest for about half an hour.
Then divide it into 7 equal portions. Start rolling out each portion like a normal roti.
Heat a tawa | griddle. Once it is hot add the rolled out rotis.
Cook until brown spots appear on both sides. Follow the same with the rest of the dough.
This post falls under the state Uttar Pradesh, in North India. Check out the Blogging Marathon page for the other Blogging Marathoners doing BM# 39