We still live in a world where men are considered superior to women. They are still the head of the house and have sway in everything. Well, I would be completely lying, if I don't accept the fact that these systems are changing. I can see that around me in my own life. Two of my life's most important men happened to understand quite clearly that women deserve mutual respect. But our culture and etiquette contain both formal and informal ways of elaborating men's privilege in the society. They have managed to nurture this thought in us subconsciously that even though when we fight for our equal rights, we are not able to let go of some of our social customs. The expected roles of women have not yet changed and in some cases we do not want it to be changed. For instance, women feel kitchen is always their domain. We certainly expect men to help us but we don't give them the leash yet. Feeding the family is our right. We consider it disrespect calling hubby by name, in front of elders and especially in-laws. I myself have been a victim of all these circumstances. May be its the latent fear that is holding us back. More than the outright nuisance, these subtle inconveniences in day to day life that our culture imposes upon us also needs to be addressed.
In spite of this innate male dominant world, it is promising to know that the "Abode of clouds", follows matrilineal system, where lineage and inheritance are traced through women. Meghalaya is the only state in Indian sub continent where men fight for 33% and husbands are asked to move in with their in-laws after marriage. the only state where there are no illegitimate child, since the babies have maternal surnames. Women experience full freedom and independence in all aspects. They are successful in career. The indigenous tribe, celebrate women by portraying them as the plinth of the society. But that does not refrain them from raising and nurturing their family.
Today's post is from the Indian Scotland region. Yeah, the British named it after seeing much geographical resemblance. I should say, of all the North eastern recipes that I tried for this BM, this tops it all. It might look like a simple three ingredient fix but the soul of the taste lies in how good you are at smoking the tomatoes. Smoked tomatoes, chillies and garlic strike a perfect balance together to give us an enriched palate.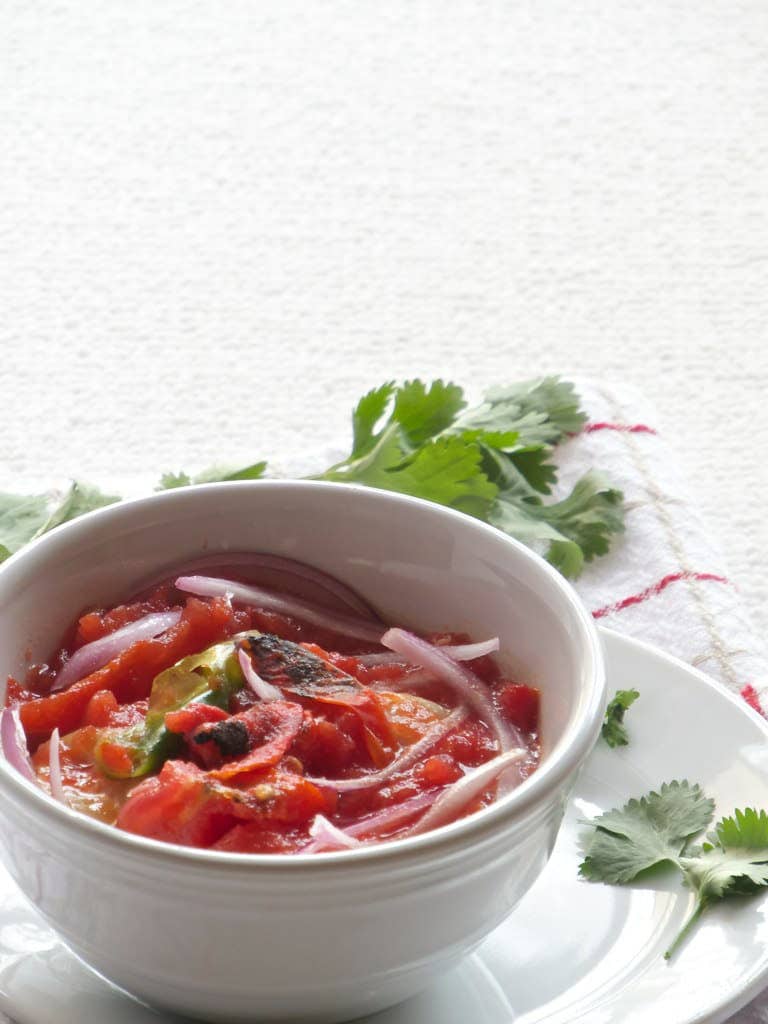 Stepwise Pictorial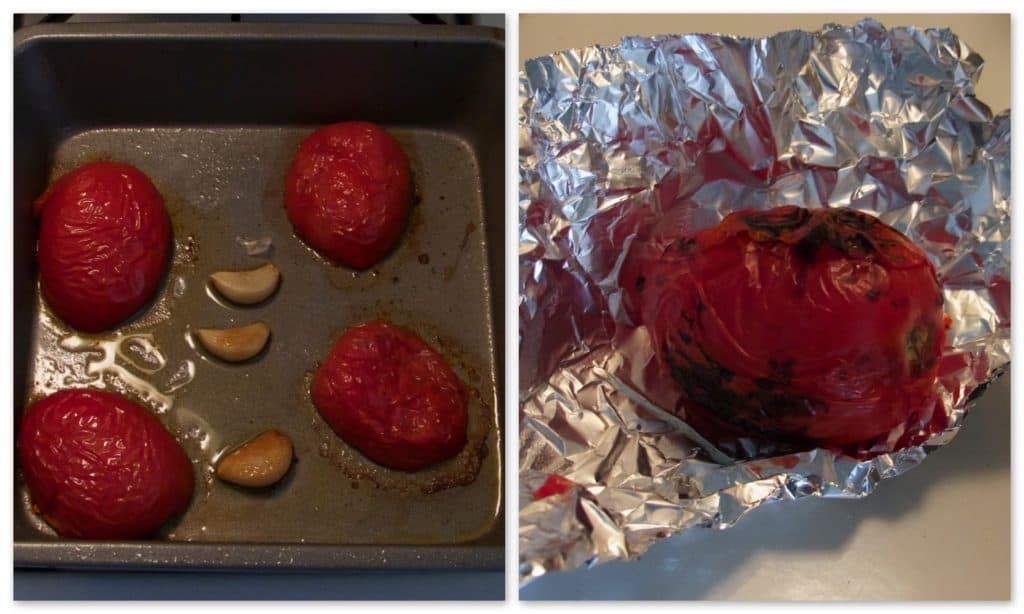 Either roast it in the oven as seen on the left side or in the stovetop and close it with a foil.
Khasi Roasted (smoked) Tomato Chutney - Meghalaya
Smoked tomatoes, chillies and garlic chutney. Perfect accompaniment for daily breakfasts or can be had as a dip too.
Prep time: 5 mins | Cook time: 15-20 | Total time: 20 Mins | Serves: 3
Ingredients

3 Medium sized Cherry Tomatoes
½ Cup Sliced Onions
2 Garlic pods
2 Green chillies, Slit in between
Salt to taste

Instructions To Roast

On stove top, place a mesh on the stove top and roast it until it chars and blackens, rotating in between. Keep the flame in medium high.
Roast the garlic and chillies too.
To retain the smoky flavour, wrap this in a aluminium foil and keep aside for 10 minutes.
Oven, Place the tomato cut side down, garlic, chilli and drizzle some oil. Roast it in 375F for about 10 minutes.
Keep checking in between and remove the chilli and garlic if it starts to char.

For the Chutney

Now pound the garlic and chilli in a pestle. Add the tomatoes and crush them too. Add the sliced onions and check for salt. Garnish it with coriander leaves.
Notes
Roasting it on stove top is little messy. Cover the grate with a foil and go ahead. Use this method to roast the tomatoes. There is a lot of difference in both the method but both are good.
This recipe is adapted from this blog.
This post falls under Meghalaya state, in North East India. Check out the Blogging Marathon page for the other Blogging Marathoners doing BM# 39