Pondy short and sweet for Pondicherry, is a lovely coastal region located in Southern India. I have few colourful memories of this lovely place. Since my paternal aunt and my very close friend reside there, I am very much familiar with the place. The very first thing that reminds me of Pondy is their french-grid -pattern streets. Those perpendicular streets that seems to cut across the sea and merge at the horizon, never failed to amuse me. No other city in Tamil Nadu follows this pattern, as far as I know. The next best thing is the obvious beach. Though you can never enjoy the water as you could in Chennai or in other coastal areas, the wet smell of the sand, the pleasant wind that breezes the face and the roaring sound of the water hitting the shore are all memories for lifetime. We would walk down the beach road enjoying the street fairs, ice cream shops, and Mangai Kadalai sundal. Cousins and uncles and aunts, the entire family clan would go out in the evening and stuff ourselves. Childhood days are indeed a bliss.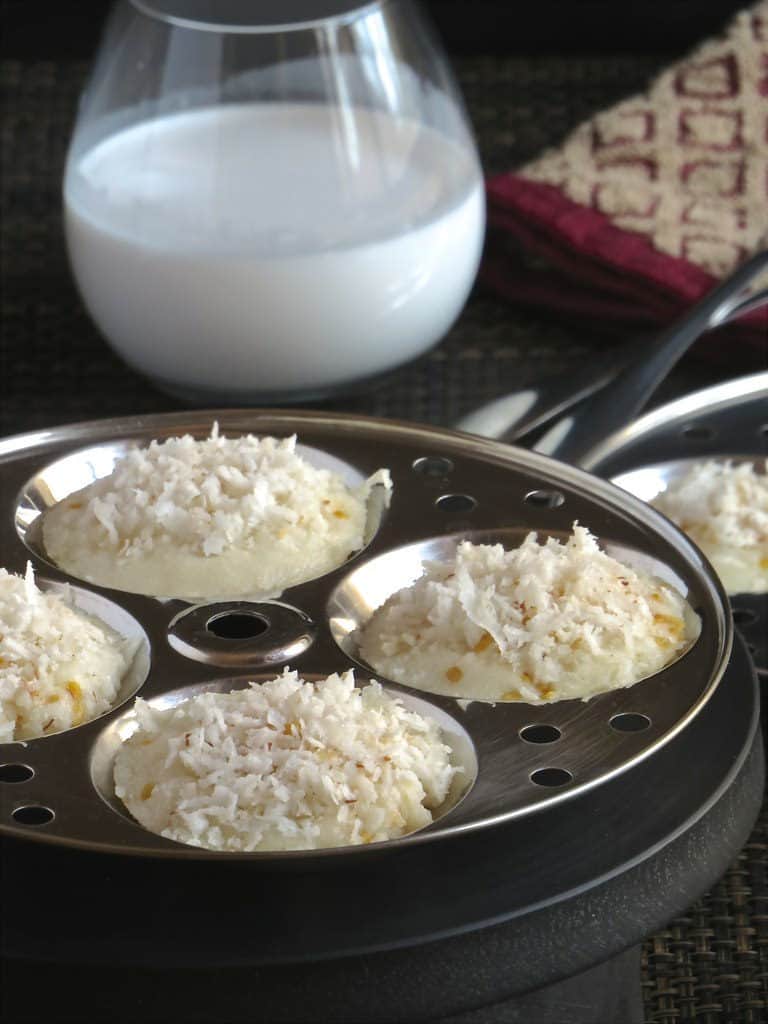 Though pondy is very familiar to me, I was totally stumped when it came to deciding about pondy dishes. I don't have any recollection of my aunt or my friend making or mentioning any speciality items and even if my aunt had, I would have been very young to remember. It was until Priya mentioned that the regional cuisine is a mix of Andhra, chettinadu and even Bengali with a slight French touch, I assumed most of the regional dishes had to be non-veg due to heavy French influence. Thanks to her I found a delectable morning meal from this region. This recipe is adapted from here and here.
Olaiappam | Sweet Idly - Pondy Breakfast
Sweet version of Idly with roasted moong dal and grated coconut.
Cuisine:
Indian, Tamil Nadu
Ingredients
1

Cup

Idly Mavu | Batter

thick (1)

4

tablespoon

Sakkarai | Sugar

2

¼

tsp

Cardamom powder

2

Tbsp

Pasi parupu | Moong dal

roasted

¼

Cup

Thengai Thuruval | Grated Coconut

roasted

For side

optional (3)

1

Cup

Coconut Milk

Sugar as needed
Instructions
Separately, roast the dal till it turn golden brown and coconut slightly roasted. Mix sugar, cardamom powder in the batter.

Grease the idly plate with oil. Ladle the batter into the moulds. Do not overfill it. Top with the roasted dal and coconut on each. (4)

Steam it for about 10-12 minutes on medium high heat, until toothpick inserted comes clean.

Allow it to cool completely and then remove the idlys from the mould.

Serving (Optional)

Mix coconut milk and sugar. Just before serving, dunk these idlis in them and serve.
Recipe Notes
The batter should be really thick and do not make this with sour batter. Allow for minimum fermentation of batter after grinding. While grinding the batter at home, do not add too much water, as the sugar might make it very watery. For instant preparation, add yeast like in the preparation of Goan Sanna and follow the rest of the process.
You can substitute sugar with jaggery if you prefer. Vary the amount of sugar | jaggery as per your sweet preference.
Serving them with coconut milk is optional. This is not the traditional way. Since I felt it will taste like "Aappam", I served it the same way with coconut milk.
Since you add the topping, do not fill the mould with batter completely. The batter will rise during steaming and it might get stuck to the bottom of the plates that are placed above each. Give some room for it to rise.
This post falls under Pondicherry, a union territory in South India. Check out the Blogging Marathon page for the other Blogging Marathoners doing BM# 39
´