While in most of the countries "Soup" is a comfort food during chilly days and when very sick, in India, especially in the south it is "rasam" - a more liquified and clear form of soup if I may say, that plays the same role. Soups did not frequent the Indian table often, when I was a kid. It hardly featured in any of the celebration or events. They were regarded as more of a fancy- restaurant item. But this tomato soup is an exception in my house. It was a go-to dish when any of us got bored of having the same meal again and again. This dish reminds me of those evenings when we all would gather around together in our living room only to be so immersed with the bowl without minding the surrounding. It reminds me of those evenings, when my heart fills with ecstasy of having something different and delectable from our regular supper. The aroma of the blanched tomatoes and the fragrance of the fresh ground pepper reminds me that even the simplest of things could bring immense joy. It reminds me that certain dish had to be slurped and licked to the very last drip and the table manners and ethics can take back seat for a while. It reminds me that only mom's can make such wonders !!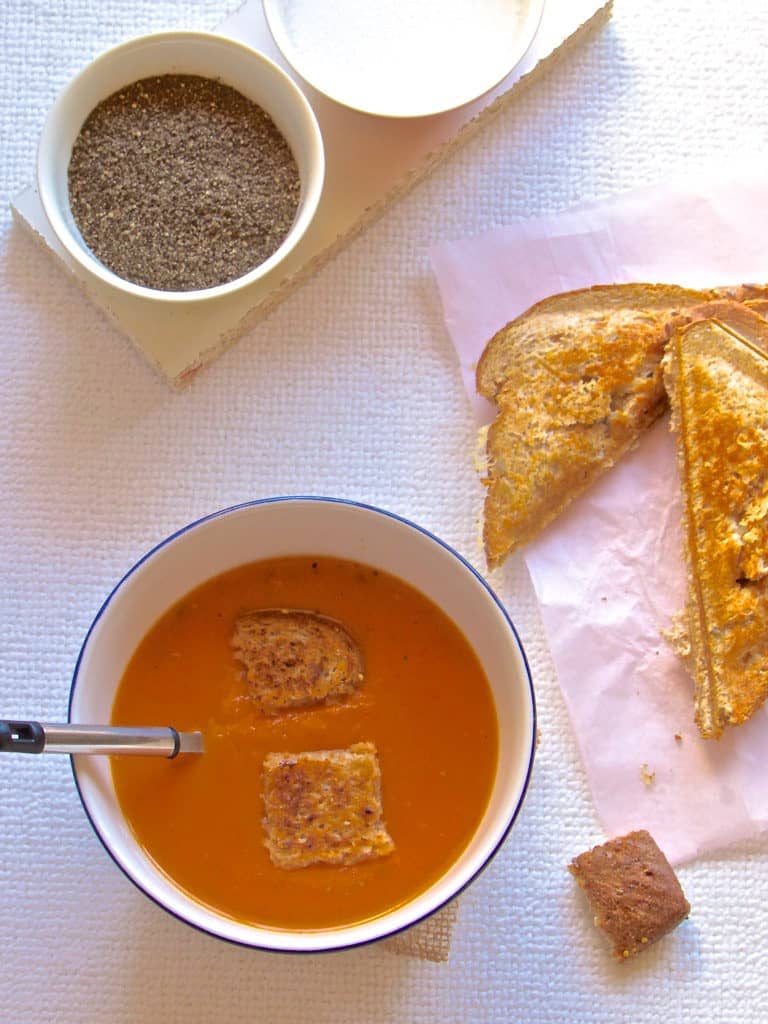 For me, tomato soup is the only dish that I considered as soup until my adulthood. That's the only soup I have ever had at home and it is the only soup that I would order religiously in a restaurant. Even though I know almost most of them everyone serves a miserable bowl, I held on to a small ray of hope, hoping what if it turns out be good? I know, wow, look at me this is real optimism I guess!! I bet, if made properly, this simple bowl would be the most warmest and heartiest food ever. Not much ingredients and not much time it takes. It is as simple as that. All you need is just tomatoes and some seasoning.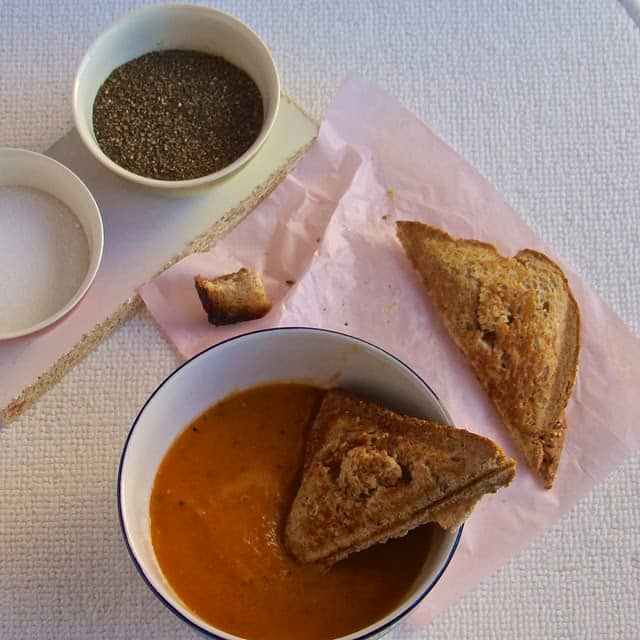 This is mom's recipe with a little tweak of adding sugar and milk. Hers was plain hot and tangy tomato soup. Instead of the rusk that goes in as croutons, I have paired this with the classic tomato soup and grilled Cheese combo.
Do you have such simple pleasures in life that are a keep sake ? Then share them with me in the comments.
Tomato Soup
A simple tomato soup loaded with rich flavour and memories.
Prep time: 5 mins | Cook time: 15 mins | Total time: 20 Mins | Serves: 2
Ingredients

5 medium sized Tomatoes, ripe
1 Cup Milk
Salt & pepper To taste
2 tablespoon Butter
2 no's Bay leaves
5-6 no's Shallots, finely chopped
1 tablespoon Rice flour or Corn starch
1 teaspoon Sugar
~1 Cup Water

Instructions

Blanch the tomatoes, peel the skin and puree it until it is smooth.
Heat butter in a saucepan over medium heat and add the bay leaf.
Once it sizzles, remove the leaf and add the shallots. Cook until it becomes tender. If you do not want chunks of onions, you can puree it too or leave it as such.
Then add the corn starch or rice flour and give a quick stir.
Add a cup of water and the tomato puree. (1)
Keep stirring it frequently and let it simmer for about 4-5 minutes. Then add the milk or cream and bring it to a boil and turn off the flame.
Adjust the amount of water or milk according to your preference of consistency.
Notes
Be careful while adding tomato puree in a hot pan. It will bubble vigorously and start splashing all over. It might even scald your pan.
This is off to the third day of the blogging marathon 38, week 3 under the theme "Soups & Salads Recipes". Check out the recipes of other blog marathon runners over here.