Rainy days and hot deep fried accompany each other well. Somehow as soon as little drops start falling down, heart and stomach immediately craves for something warm and spicy. This was what happened this Friday evening when it started pouring. We settled for a nice warm cup of ilaichi tea and steaming aromatic pakoras. Double fried, crunchy and soft pakodas. The onion pakodas we make regularly at home has only onion and chilli and curry leaves. Whereas these Sanha Pakoras have lots of greens and potato as filling. They were so flavourful and tasty providing an instant satiation to our taste buds. Sanha means "very thin" in the Sindhi language. You (Even myself) might wonder why Sanha when these are all bite sized lumps. Since very finely i.e., thinly sliced ingredients are used in this dish it was named "Sanha Pakoras". 🙂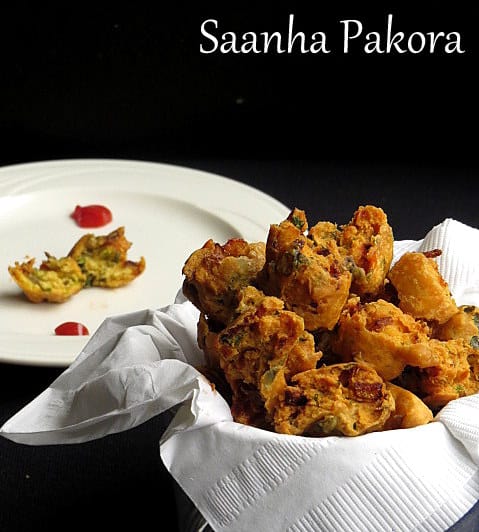 Now grab the recipe and prepare this instant and a thumbs up snack for you and your family.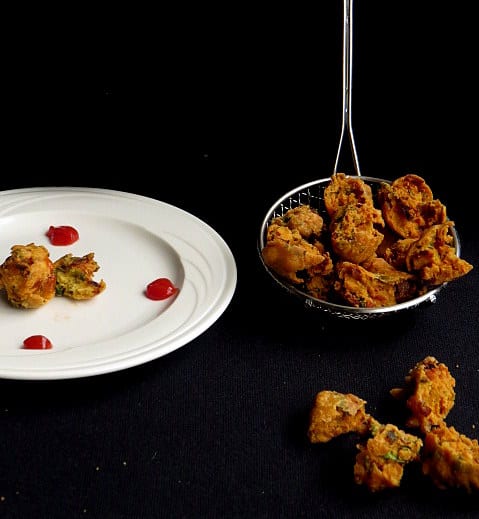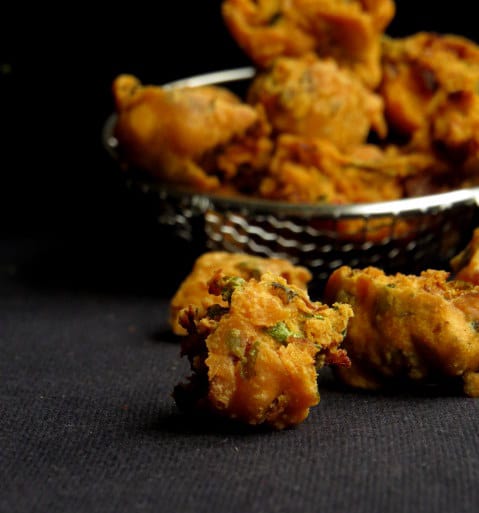 Sanha Pakoda | Sindhi Pakodas
Aromatic and flavourful onion pakoras, made the Sindhi way.
Prep time: 10 mins | Cook time: 15-20 Mins | Total time: 30 Mins |
Serves: 3-4
Ingredients

1-½ Cups Besan Flour
½ cup finely chopped coriander leaves
1 Medium sized Onion, finely chopped
1 Medium sized Potato, finely chopped
1" piece ginger
2 no's Green chillies
½ tsp Red Chilli powder
Salt to taste
Oil For deep frying

Instructions

Mix all the ingredients (except oil and water) in a bowl. Add water little by little make a batter. The consistency of the batter should be in such a way that you should be able to drop them easily in oil in small blobs.
Heat oil in a heavy bottomed pan. Once it is hot, With the help of spoon, drop the blobs slightly bigger than bite sized in the hot oil.
Once they become slightly golden brown, take them off the stove. Drain them in a tissue. Break them into small bite size pieces and deep fry them again.
Repeat the same for the remaining batter. While frying them the first time keep the flame on medium high and second time keep it in a medium flame and cook them through.
Notes
The consistency of the batter should be in between bhajj's batter and a regular pakodas batter. Neither too thick or in a pouring consistency.
This is off to the second day of the blogging marathon 28, week 4 under the theme "Sindhi Cuisine". Check out the recipes of other blog marathon runners over here.