For any South Indian festival Payasam and Vada are the two must-haves. No festive feast is complete without these two. This dish dates back to the ancient times in Tamil cuisine. Yeah! A treasure it is. The recent weeks were /are full of religious celebrations at home. Aadi 18was last week and we have Aavani Aavatam and Krishna Jayanthi in the following weeks. So the whole month is packed and its raining treats at home. This is the perfect time for posting one of the common festive dishes and that which requires us to refer to a lots of tips and suggestions.
This might look like an easy recipe, just few ingredients, grind and fry but it takes a lot of patience and practice to perfect this. I cannot emphasize more about how important the batter is. Too much of water, spoils it and at the same time less water also spoils it. So what is the quantity eh ? That, really is difficult to measure as it depends on a number of factors. You might get the hang of it after a couple of times. You have to keep in mind that the batter should be very fluffy and creamy to get those crispy on the outside and soft inside Vadas.
Process shot for shaping the ulundu vadai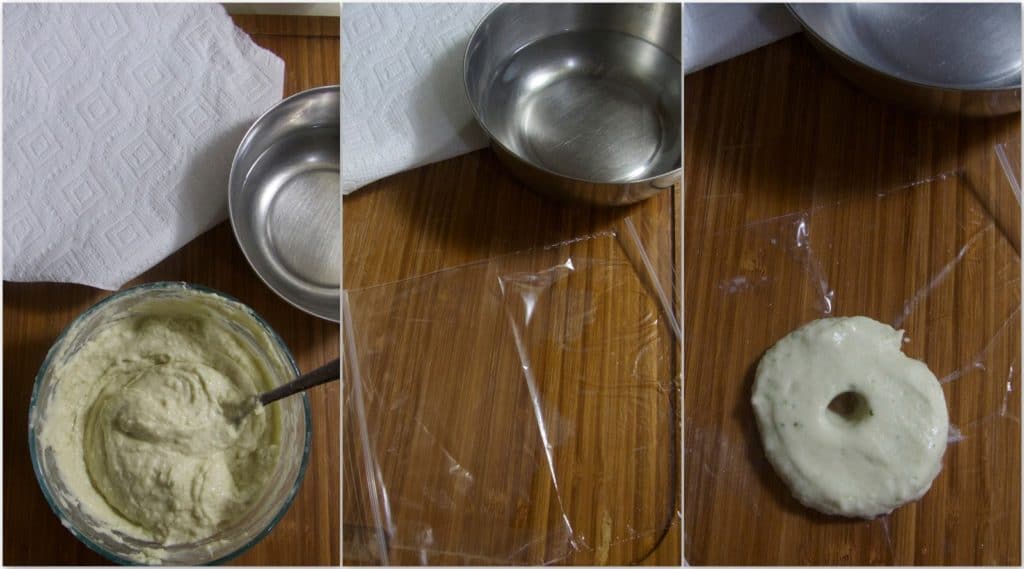 This is the Vada making station. A bowl of water and a plastic sheet is inevitable to shape these. Next time I will try to capture the entire process.
Ulundu Vadai | Urad Dal Vada | Medhu Vada
Urad dal fritters to celebrate auspicious days.
Cuisine:
Indian, Tamil Nadu
Keyword:
Festive savoury snacks, Ulundu vadai
Servings
:
12
to 14 medium sized vada
Calories per serving
:
170
kcal
Ingredients
1

cup

Urad Dal, husked black gram (split or whole)

3 to 4

small green chillies

3-4

curry leaves

¼

teaspoon

asafoetida powder

Salt to taste
Instructions
Soak the dal in water for about 2 hours. Drain the water completely. Add the dal, chillies and curry leaves in a mixer. Grind until it is smooth. Check below notes for how to grind the vada batter.

Add salt now. Check for taste and adjust.

Meanwhile heat the oil in a Kadai.

Wipe the plastic sheet with water. Take a heaped spoon and drop it in the sheet. With wet hands (fingers should be slightly wet and not dripping with water) shape it and make a hole in the centre.

Check if the oil is hot. Drop a small batter and it should rise to the top slowly. Now, wet your hand again, take that from the sheet and gently slide it in oil.

Turn and cook on both sides until it becomes golden brown.

Drain it on a paper towel and serve it hot with chutney.
Recipe Notes
While grinding the batter in a mixer grinder, grind it in intervals by sprinkling little water. Also you can wet your hands, wash the sides of the mixer in between pulses. This might help to limit excess addition of water.
The ground batter should be fluffy and airy (creamy) but thick. The consistency of the batter plays a major role. If your batter is very thick the vadas will be hard and if it is very thin then it will be shapeless and very oily. Only with practice, you will get the perfectly shaped crispy vadas.
Do not soak the urad dal for more hours. It might lose its potency and you will not get a fluffy light vada. Do not add water while grinding unless and until it is absolutely necessary to grind. If water content is excess or even slightly more, you will have a tough time shaping the vadas. Also it might absorb more oil while frying.
Shaping vadas is an art. Only practice will yield a proper round vadas. So don't lose hope the first couple of times when you don't get it.
Use a thin plastic sheet while shaping the vadas. Generally in India, we use milk covers or banana leaves. If you don't have access to either, use the sandwich ziploc bags.
Wetting your hands at regular intervals while preparing this is very important. Otherwise the batter will stick to your hand, you will not be able to make the hole (trademark of vadas) or able to lift it off the sheet and slide it into the oil.
The tricky part is that excess water will make the vadas oily. So keep that also in mind.
Also add a little extra salt and chillies. When you taste the batter it should be slightly salty and spicy. When you fry, the spice level reduces.
Refrigerating the batter for sometime before deep frying helps in making proper vadas.
Add the salt at the end. Do not add while grinding, it will make the batter runny.