Chivda - A famous Indian snack common in the Maharashtrian home. A crunchy mixture of flattened rice flakes, nuts and raisins. A perfect make-ahead snack that can be stored for quite sometime, perfect for your road trips or travel. In the traditional version, each ingredient is deep fried in oil and them combined together. But as health consciousness is increasing rapidly, so it can also be either roasted or shallow fried. The one below is a basic Chivda recipe. There are so many variations to it. You can add puffed rice, almonds, cereals (unsweetened) etc. So go ahead and make your own crunchy mix.
This is for the third week for the
Blogging Marathon- 23- Traditional Dishes
. Check out the other blog marathon participants over
here
.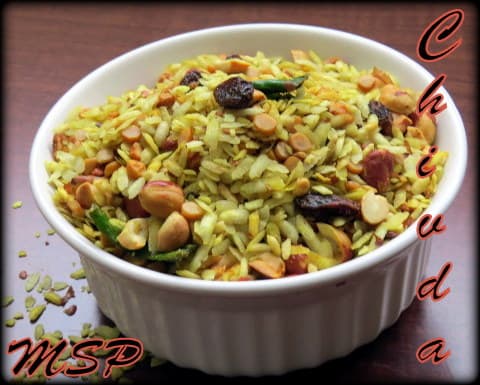 CHIVDA
A crunchy mix of sweet and savoury, in every mouthful.
Prep time: 5 mins | Cook time: 5 mins | Total time: Under 15 Mins | Serves: 6-7
Ingredients

4 cups flattened rice flakes (poha)
4-5 green chillies, slit lengthwise
Few curry leaves
1 tsp turmeric powder
1 tsp asafoetida
1 tsp amchur powder
Salt, to taste
Oil, for shallow frying

To fry

¼ cup cashew nuts
¼ cup peanuts
¼ cup split gram
¼ cup raisins

Instructions

Microwave the flattened rice on medium high power for 3 minutes, stirring in between. Fry each ingredients under To fry
separately in oil and keep aside. Shallow fry them for about 2-3 minutes, or until they become crispy.
In a wide pan, heat 2-3 Tbsp oil. Once it is hot, add the green chillies and curry leaves and fry them for a minute. Turn of the stove and add the turmeric powder, asafoetida, salt and the combined mixture. Toss them until everything gets mixed.
Cool them and store in an airtight container.