I love grocery shopping, eh, more like a window shopping. Even when my pantry is well stocked, I would love to go to the store every week end and I can spend hours in a farmers market. Well, I am not talking about new york's union square kind of market. The one that I am referring to is just a street long, two block's maximum. I know. Like my hubby says, I wonder if I am suffering from OCD, to stop and look at each and every thing ? Oh! My God. No matter how many times I go around each aisle, I never get bored. Till date I have never figured out what is that attracts me so much ? The colourful veggies look so shiny like a silverware or the fancy package of the produce or those cute little descriptions beneath each product like in some specialty stores. Orange capsicums, Strawberries, the bright greens are the same everywhere, but I stop most of the time to admire that colour. Every shop waters its produce to keep them fresh and every time somehow I find these things intrigue me so much.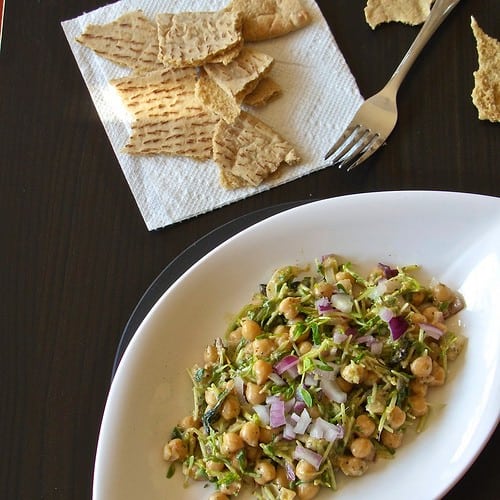 That's how these cute little greens came along with me from one of my weekend explore. May be it is a common green to most of you, but for me this is the first time I am seeing it. At first I was a bit hesitant to get this. I did not know how it would taste, what else to do with this (because my family is not so keen in salads) and it was a bit expensive. Despite everything, I went ahead and bought it. I am so relieved that my gut saved me. I fell in love with those fresh and bright greens. It tastes more like peas and it imparts a very mild and subtle flavour in your bite. One of my top reasons to like this is that it can be incorporated in any Indian dish. Just like adding kasuri methi to the curries, this will also enhance the flavour. This is sure to frequent my table often. We had this salad with some pita breads and rotis and the next day I even had this as a side with my rice.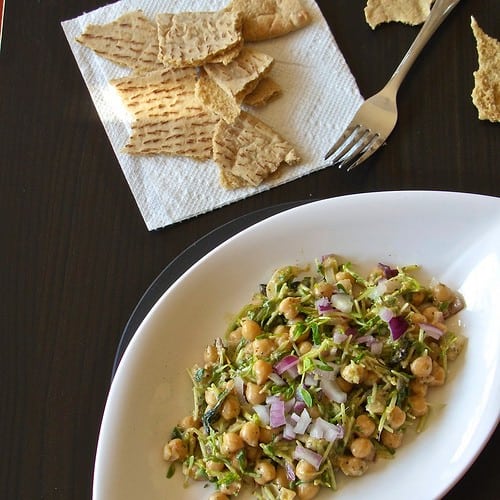 Chickpea & Pea shoots salad with Yoghurt cumin dressing
Crunchy pea shoots and chickpeas dressed with cumin yoghurt and some fresh herbs.
Prep time: 5 mins | Rest time: 15 mins | Total time: 20 Mins | Serves: 2
Ingredients

1.5 Cups Cooked chickpeas
1 Cup Pea shoots, trimmed at the ends
½ Cup Finely chopped onions

For the dressing

2 tablespoon Yoghurt (Greek or any thick yoghurt)
1 tablespoon Olive oil
1 tablespoon Finely chopped mint leaves
2 teaspoon Cumin seeds
1 teaspoon Paprika or more if you need
1 teaspoon Kasuri methi crushed (dry fenugreek leaves), optional (1)
Salt to taste (2)

Instructions

Whisk yoghurt and olive oil in a bowl. Then combine the other ingredients and mix well. Check seasoning and adjust it accordingly.
Then finally add the cooked chickpea, onions and pea shoot. Toss to combine it well.
Refrigerate for about 10 minutes. Check seasoning and serve cold.
Notes
Adding Kasuri methi is purely optional. This dry fenugreek leaves imparts a delicate flavour to many north Indian gravies. If you are not familiar with this taste either skip it or try in moderate. Try adding it to salads with fresh herbs, it add to flavour.
Add salt just before serving. If you add it before it might bring out the water content and the salad can become runny.
This is off to the third day of the blogging marathon 38, week 3 under the theme "Salads & Soups". Check out the recipes of other blog marathon runners over here.